Tutorial Cara Install OpenVZ di Linux Centos 6
OpenVZ adalah layanan virtualisasi physical server menjadi beberapa VPS (virtual private server). Artikel ini akan menjelaskan Tutorial cara install openvz di Linux Centos 6. Dalam virtualization, VPS disebut juga dengan container, dalam sebuah physical server kita dapat membuat beberapa VPS, namun jumlah VPS tergantung dengan spesifikasi physical server yang kita miliki. Penjelasan lebih lengkap tentang vps silahkan baca Pengertian VPS
Tutorial cara install OpenVZ di Linux Centos 6 ini dibuat menggunakan paket Dedicated Server murah USA usDS-2 dengan spesifikasi sebagai berikut:
Prosesor : AMD Phenom II x6 1045t
RAM : 8 GB DDR3
HDD : 500 GB
Ipv4: 5
Tujuan Tutorial cara Install OpenVZ di Centos ini adalah karena menjual layanan VPS dengan harga murah dan dapat menghemat biaya sewa lisensi cPanel untuk Dedicated Server dengan biaya US$45/bulan menjadi lisensi cPanel untuk VPS dengan biaya US$15/bulan. Salah satu layanan vps yang menggunakan layanan Virtualization OpenVZ adalah VPS murah USA.
Pertama kali tentunya Dedicated Server / physical server Anda harus sudah terinstall linux centos 6.x terlebih dahulu, kemudian ikuti langkah-langkah berikut ini:
1. Tambahkan repository dari OpenVZ kedalam Linux Centos 6
Login SSH menggunakan account root.
# cd /etc/yum.repos.d
# wget http://download.openvz.org/openvz.repo
# rpm –import http://download.openvz.org/RPM-GPG-Key-OpenVZ
2. Install Kernel dari OpenVZ
# yum install vzkernel
# yum install vzctl vzquota
3. Edit file sysctl.conf
# vi /etc/sysctl.conf
Tambahkan rules berikut dibagian mana saja (sebaiknya dibagian atas supaya mudah dilihat):
Cari baris net.ipv4.ip_forward = 0 lalu ganti menjadi:
net.ipv4.ip_forward = 1
net.ipv4.conf.default.proxy_arp = 0
net.ipv4.conf.all.rp_filter = 1
cari baris kernel.sysrq = 0 lalu ganti menjadi:
kernel.sysrq = 1
net.ipv4.conf.default.send_redirects = 1
net.ipv4.conf.all.send_redirects = 0
net.ipv4.icmp_echo_ignore_broadcasts=1
net.ipv4.conf.default.forwarding=1
Simpan perubahan.
4. Aktifkan rule yang baru dibuat diatas
# sysctl -p
5. Edit file vz.conf
# vi /etc/vz/vz.conf
Cari baris dengan option berikut dan rubah menjadi "all":
NEIGHBOUR_DEVS=all
Simpan perubahan
6. Matikan feature SELinux pada Centos
# vi /etc/sysconfig/selinux
Cari baris SELINUX dan edit menjadi "disabled"
# This file controls the state of SELinux on the system.
# SELINUX= can take one of these three values:
# enforcing – SELinux security policy is enforced.
# permissive – SELinux prints warnings instead of enforcing.
# disabled – No SELinux policy is loaded.
SELINUX=disabled
# SELINUXTYPE= can take one of these two values:
# targeted – Targeted processes are protected,
# mls – Multi Level Security protection.
SELINUXTYPE=targeted
7. Download template OS untuk OpenVZ
# cd /vz/template/cache
Download template OS yang dibutuhkan disini:
http://download.openvz.org/template/precreated/
Contoh :
# wget http://download.openvz.org/template/precreated/ubuntu-11.04-x86.tar.gz
Sampai disini, tutorial cara install OpenVZ di Linux Centos 6 sudah selesai dan berhasil.
OpenVZ Web Panel
OpenVZ Web panel adalah aplikasi untuk memudahkan kita mengelola OpenVZ melalui web-based. Untuk memudahkan mengelola VPS / Containers, kami sarankan untuk install OpenVZ Web Panel.
Berikut ini cara install OpenVZ web panel di Centos
1. Install OpenVZ Web Panel untuk mengelola OpenVZ
# wget -O – http://ovz-web-panel.googlecode.com/svn/installer/ai.sh | sh
Tunggu sampai instalasi OpenVZ Web Panel selesai.
Jika sudah selesai, OpenVZ Web Panel dapat Anda akses melalui link:
http://IP_address:3000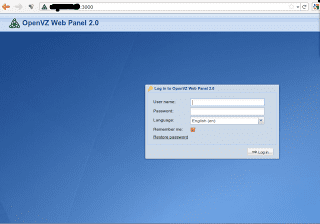 Jika menggunakan iptables, ACCEPT port 3000 pada iptables Anda dengan cara:
# vi /etc/sysconfig/iptables
Tambahkan baris berikut :
-A INPUT -m state –state NEW -m tcp -p tcp –dport 3000 -j ACCEPT
Restart iptables:
# /etc/init.d/iptables restart
2. Restart Dedicated Server / physical linux Centos
# reboot
3. Selesai restart, akses OpenVZ Web Panel
http://IP_address:3000
Account default:
User name: admin
Password: admin
4. Tampilan halaman Administrator OpenVZ Web Panel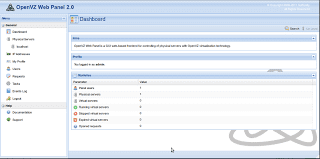 5. Sebelum membuat virtual server baru, alokasikan IP address dengan cara klik menu IP Addresses kemudian klik Create IP Pool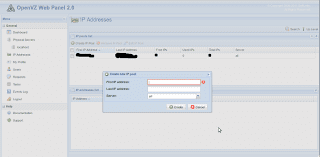 Misalnya Anda mendapatkan 5 IPv4 address dari provider 10.10.10.1 s/d 10.10.10.5, maka IP yang dipakai untuk OpenVZ adalah 10.10.10.1 dan sisanya dipakai untuk IP VPS.
Jadi IP yang ditambahkan kedalam IP Pool adalah:
First IP address: 10.10.10.2
Last IP address: 10.10.10.5
Server: localhost
6. Membuat virtual server
Klik Menu "localhost" di sebelah kiri dan klik "Create virtual server"
Isi semua data yang diperlukan seperti IP, Hostname, DNS, RAM, OS Template yang ingin dibuat, dll. Kemudian klik "Create"
7. Jalankan Virtual Server
Klik menu "Change State" kemudian klik "Start"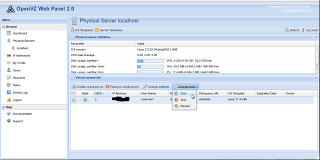 Jika virtual server running, coba akses ssh ke IP Virtual Server yang baru dibuat.
Jika tidak menggunakan OpenVZ Web Panel, Cara membuat virtual server / container dapat dilakukan dengan perintah dibawah ini:
# vzctl create 1 –ostemplate centos-5-x86-devel –config basic
Angka 1 adalah ID mesin virtual server, ID tidak boleh sama dengan mesin virtual server yang lain.
Setting hostname, IP address dan DNS.
# vzctl set 1 –hostname zall.e-padi.com
# vzctl set 1 –ipadd 192.168.0.105 –save
# vzctl set 1 –nameserver 8.8.8.8 –save
File konfigurasi terletak di /etc/vz/conf.
Start, Stop dan hapus mesin virtual server.
#vzctl start 1
#vzctl stop 1
#vzctl restart 1
#vzctl destroy 1
Untuk login ke virtual server dari server node.
# vzctl enter 1
# vzctl exec 1 passwd
Untuk melihat mesin virtual server yang jalan.
# vzlist –a
Demikian Tutorial Cara Install OpenVZ di Linux Centos 6 ini dibuat semoga bermanfaat buat semua yang membaca, silahkan di share dengan mencantumkan linkback ke website e-padi.com.
Tutorial Cara Install OpenVZ di Linux Centos 6