e-Padi.com Servers Information
Data Center : Netriplex (USA) – Primary Server
Location : Skyland, USA
Server Spesifications
• Premium Server Classified
• Dell PowerEdge Server
• Six Intel Nahalem 3.0Ghz CPU cores
• 32 GB GB DDR3 ECC RAM
• HDD 2 x 2TB SATA 3 Gb/s Raid-1
• Unmetered Gigabit Network connection
• 1 Gbps Uplink connection
• Webserver
• Mailserver
• cPanel 11 / WHM Hosting Control Panel
• CSF + Cisco ASA Firewall protected
• 100% Uptime SLA
• 24/7 System monitoring Alert
Operating System
• CentOS Stable
• New Kernel
Data Center : Layered Technologies (USA)
Location : Chicago/Seattle/Washington DC/ Atlanta/ Dallas/ NYC/ San Fransisco
Server Spesifications
• Intel® Pentium(R) 4 CPU 2.40GHz
• 8 GB GB DDR2 ECC RAM
• 1 TB SATA Drives
• 1 GB Tier 1 Bandwidth
• Webserver
• Mailserver
• cPanel 11 / WHM Hosting Control Panel
• CSF + Cisco ASA Firewall protected
• 100% Uptime SLA
• 24/7 System monitoring Alert
Operating System
• CentOS
• New Kernel and Up-to-date
Data Center : ThePlanet.com, Inc (USA)
Location : Dallas, Texas – USA
Server Spesifications
• Xeon 3060
• RAM 8GB
• Upto 1 Gbps Uplink connection
• Webserver
• MailServer
• cPanel 11 / WHM Hosting Control Panel
• CSF + iptables Firewall protected
• 24/7 System monitoring Alert
Operating System
• Linux REDHAT Enterprise 4
• New Kernel and Up-to-date
NameServer (Clusters)
NameServer 1 : NS1.E-PADI.COM
IP : 199.15.251.184
NameServer 2 : NS2.E-PADI.COM
IP : 107.150.12.2
NameServer 3 : NS3.E-PADI.COM
IP : 199.167.134.162
NameServer 4 : NS4.E-PADI.COM
IP : 27.111.34.131
BACKBONE AND CONNECTION
Netriplex
Connection and Speed:
Multi-homed network with multiple 10 Gigabit connections
Quadruple fiber optic building entrances
Redundant Cisco routing and switching
Border Gateway Protocol (BGP4)
HSRP failover protection
Carrier neutrality utilizing multiple providers
Dedicated bandwidth for each customer
10/100, GigE and 10G network connectivity availability
Network monitoring 24x7x365
100% uptime Service Level Agreement (SLA)
Network capacity monitoring to ensure bandwidth usage never exceeds availability.
ThePlanet.com, Inc
Connection and Speed:
• ATT (OC3)
• UUNet (OC3)
• InterNap (2x100Mbps)
• Qwest (1Gbps)
• Cogent Communications (5x100Mbps)
Layered Technologies Inc
Connection and Speed:
• SAVVIS backbone
• OC-48/OC-192 backbone trunks
• total 26Gbps
• AS3561 is consistently rated over time as having the lowest latency, lowest packet loss, and highest reliability
The Switched Network that used by e-Padi.com server spesifications Will be cooperation with all network which connected with one or some exchange point include IIX (Indonesia Internet Exchange), OpenIIX, MCI, Global Crossing, and Time Warner Cable.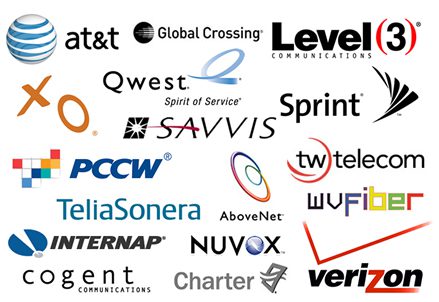 Catatan:
Informasi server diatas adalah update spesifikasi server e-padi.com pada tahun 2005, informasi server bervariasi berdasarkan paket hosting / vps yang anda order, untuk informasi server lebih rinci silahkan contact us.
e-Padi.com Server Spesifications